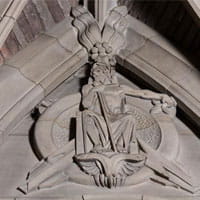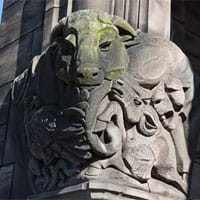 Welcome
Welcome
The National War Memorial for Scotland was established by Royal Charter to commemorate the sacrifice of Scots in the Great War, Second World War and subsequent conflicts. The Memorial within Edinburgh Castle houses and displays the Rolls of Honour of Scots servicemen and women from all the Armed Services, the Dominions, Merchant Navy, Women's Services, Nursing Services and civilian casualties of all wars from 1914 to date.
2017 - The Battle of Arras Commemoration Service
The 100th anniversary of the Battle of Arras, was commemorated during a service in the War Memorial on Sunday 9 April 2017. The Service was attended by several descendants of soldiers who fought, and in some cases died during the battle. The Battle of Arras saw the highest concentration of Scottish troops fighting in a single battle during World War One.
2016 - The Battle of Somme Vigil
Overnight Thursday 30 June/Friday 1 July 2016, over 700 members of the public visited a Vigil held in the War Memorial to commemorate the Battle of the Somme. The vigil was mounted by 20 members of the Armed Forces and over 100 members of Service Veterans groups.
2016 - Annual Service of Commemoration
The Annual Service of Commemoration to mark the opening of the Memorial in 1927 was held in July in 2016. The trustees and staff were honoured by the presence of HRH The Princess Royal in her capacity as an Admiral in the Royal Navy. 2016 saw the 100th anniversary of the Battle of Jutland where many of the 151 British ships involved sailed from bases in Orkney, the Cromarty Firth and Rosyth in the Firth of Forth.
Visit to the Memorial by The Queen and The Duke of Edinburgh - 3 July 2014
The Trustees and staff of the Memorial were honoured in 2014 by a visit from The Queen and The Duke of Edinburgh, who attended The Annual Service of Commemoration on 3 July 2014. Photographs and a video of this very special occasion are available for viewing in the Gallery section of the website.
Publication of "Scotland's Shrine"
Summer 2014 saw the publication of Professor Duncan Macmillan's book "Scotland's Shrine - The Scottish National War Memorial". The book records the history of the Memorial from concept, to completion in 1927. The book can be bought through all good retailers, Historic Scotland shops and direct from the publisher Lund Humphries.