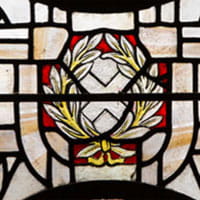 Welcome
Welcome
The National War Memorial for Scotland was established by Royal Charter to commemorate the sacrifice of Scots in the Great War, Second World War and subsequent conflicts. The Memorial within Edinburgh Castle houses and displays the Rolls of Honour of Scots servicemen and women from all the Armed Services, the Dominions, Merchant Navy, Women's Services, Nursing Services and civilian casualties of all wars from 1914 to date.
St Valery-en-Caux Commemoration Service - 12 June 2020
A short, socially distanced Service was held in front of the Memorial on Friday 12 June 2020 to commemorate the service and sacrifice of the 51st Highland Division who were forced to surrender at St Valery-en-Caux on 12 June 1940. The surrender to German forces led by Field Marshall Erwin Rommel came after after a gallant rear guard action had been fought against overwhelming odds in the days after the Dunkirk evacuation. Wreaths were laid by the Commander 51st Infantry Brigade and the Commander Edinburgh Garrison.
A photograph of the Service can be seen on the Gallery page of this website.
Coronavirus/COVID-19. At present Edinburgh Castle and the Memorial are closed due to Coronavirus restrictions. The Memorial office has been closed since mid-March but we are now back in the office. We have started processing orders for Roll of Honour Extracts, Certificates and products from our shop. We are also starting to answer queries about the Roll of Honour which have arrived during our closure. Please bear with us while we do this.
4 June 2020