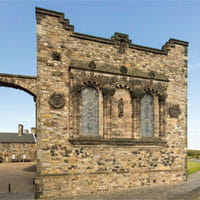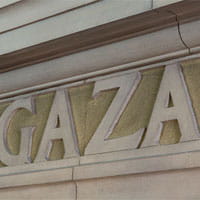 Welcome
Welcome
The Scottish National War Memorial (SNWM) was established by Royal Charter to commemorate the sacrifice of Scots in the Great War, Second World War and subsequent conflicts. Construction work began in 1924 and the building was opened by HRH The Prince of Wales in July 1927. The Memorial within Edinburgh Castle houses and displays the Rolls of Honour of Scots servicemen and women from all the Armed Services, the Dominions, Merchant Navy, Women's Services, Nursing Services and civilian casualties of all wars from 1914 to date.
Reopening of the Memorial. The Memorial has been closed since before Christmas 2020 due to COVID. It will reopen when Historic Environment Scotland (HES) opens the Castle on 30 April 2021. Details of opening times to the Castle and how you can book your visit can be found by clicking on the link below:
Edinburgh Castle Opening Times
Buy your photographs of the War Memorial On Line. Should you wish to buy photographs of the Memorial you can choose from over 1000 professional, high quality digital photographs by going to https://www.antoniareevephotography.co.uk/SNWM. The service is very quick and the quality of the photographs superb.
Conservation Work. April 2021 saw the start of a major conservation project on the exterior of the Memorial by the Monument Conservation Unit of Historic Environment Scotland. Work will include:
Cleaning the statue "Survival of the Spirit' of accumulated bird guano and replacement of the Anti Bird screen in front of it.
External inspection and repair of most of the stained glass windows including all those on the Shrine.
External inspection and repair of stonework and lime mortar pointing on much of the front of the Memorial and all of the Shrine.
The Trustees of the Memorial are hugely grateful for all the hard work HES carry out to care for this beautiful building and Memorial. Photographs of some of the renovation work can be seen by clicking here.
ANZAC Day Service 25 April 21. I include a link to the recent virtual ANZAC Day Service filmed in the Memorial. The Royal British Legion Scotland (RBLS) hold an ANZAC Service in the Memorial every 25 April 21. The last Service with a congregation was held in April 2019, before COVID stopped normal Services being held.
We look forward to welcoming you back to the Memorial.
Colin McGrory
Lt Col (Retd)
Secretary to the Trustees
Scottish National War Memorial